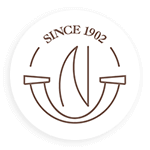 NADALIÉ TRADITION barrels are designed with the purest respect for tradition.
Resulting from a meticulous selection of the best French oak, they guarantee classic ageing stamped with authenticity.
Bertranges
A barrel made of 100 % Bertranges oak. The finesse of its dense and tight grain is the essential partner for long aging. This barrel respects the fruit and brings fine spicy aromas and subtle tannins.
---
Allier
This has been the favoured area for our purchases over several generations. The fine sessile oaks from this forest give the barrel suppleness and holding power, with unfailing consistency.
The volcanic subsoil of this area also brings freshness to your wines.
---
Assemblage
Roundness and character are the main advantages of this barrel, the result of a selection from prestigious forests in central France. Its consistency makes it one of our most sought-after barrels.
---
Privilège
A blend of French sessile oaks, this is the ideal barrel for traditional ageing of 10 to 12 months. It gives a classic oaky note and an enveloping structure.
---
Available from 225L to 600L.
---
Available toasts
LT
LT+
Noisette
MT
LMT
MT+
SHT
HT