The nobility of the best forests of central France (Tronçais, Bertranges…) and the extremely fine grain make
NADALIÉ PREMIUM barrels prestige products meeting the requirements of the greatest wines for the longest ageing.
For red wines: its tannins are very soft and respect the fruit. By playing with the toast, you can vary the aromatic notes and the structure on the palate. This barrel will enhance your wines with 12 to 18 months' ageing.
For white wines: its softness makes it an excellent backdrop. It will enhance your wines with 10 to 15 months' ageing, depending on the toast chosen.
Grains
Fine-grained oaks more than 200 years old
Drying
24 or 36 months of drying
Recommended ageing
Period of 12 to 18 months for reds and 10 to 15 months for white
Available toasts
LT
LT+
Noisette
MT
LMT
MT+
SHT
HT
Available capacities
Available from 225L to 500L (except 350L)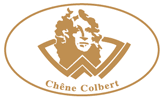 With its 36-month drying and extra-fine grain, the Colbert barrel is our flagship. Designed for a minimum 18 months' ageing, it will support your wines with distinction.
Origin of the oak
Tronçais, Bertranges…
Grains
Extra fine-grained oaks more than 200 years old
Drying
36 months of drying in the yard
Recommended ageing
Period of 18 months or more
Brings
Elegance and volume
Available toasts
LT
LT+
Noisette
MT
LMT
MT+
SHT
HT
Available capacities
Only available in 225L